Silverband falconry is located just outside Kirkby Thore between Appleby and Penrith in Cumbria. Run by Richard and Jacinta Cooper this is quite probably more of a passion than just a business, and it shows. Put them together with professional photographers Ann and Steve Toon on their Birds of Prey Photography Workshop and it only takes a few moments to know you are going to have one great day.
I was fortunate to be gifted with this one day workshop as a 60th birthday gift by my immediate family and took the opportunity to take my much better half with me as a spectator. By arriving a day early it also gave us the opportunity to revisit one of our favourite spots, Pooley Bridge near Penrith and to dine at the Queens Head at Tirril on the evening before. The food there is outstanding.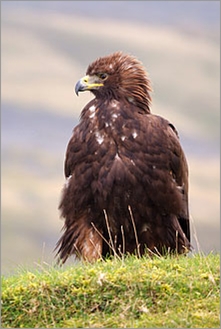 The day started at 09:30 and the initial welcome was warm and friendly and many of the birds we were to work with during the day were already out on their perches. These immediately grabbed our attention and most of us were so engrossed at seeing these superb specimens we nearly missed the introductions by Ann and Steve over a hot drink where we were given an itinerary for the day. It was to be a photography day with a difference. Steve's comment of "By 3:30 to 4pm this afternoon you will be begging for mercy!" was treated as light hearted banter but was to prove very close to the point!. A tip here if you are thinking of trying this workshop - if you think you have enough film or flash cards, best to take a couple more, just in case................. AND, make sure you take strong and comfortable footwear, you will need it !!
The weather forecast was good for the day, dry and overcast and although not perfect the light was perhaps a little less than we would have liked it was a lot better than most British days of late and prevented many 'burn-outs' on the lighter birds like the Snowy and barn owls.
First outing was up into the foothills of the Pennines where we would be able to shoot in the natural surroundings. Here the birds were released from glove or perches and allowed to rest on the surrounding moorland grass and rocky outcrops and boulders. All effort was made by Richard and James to get the birds into suitable positions for us photographers and wherever possible the jesse's were hidden.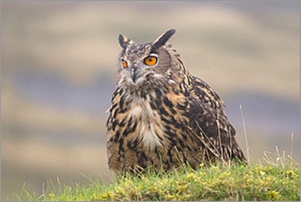 Here we were able to photograph the Golden eagle, both static and in flight, European Eagle owl, Snowy owl and the pair of Peregrine falcon's either together or individually. The birds themselves seemed happy to be up in the mountains but this was the territory for Morpheus, the Golden, and in free flight he was truly majestic. Although I had seen Golden's in the past it was always at great distance with scope or bin's and the overall size and wingspan at close quarters like this was stunning. Morning session ended around 12:30'ish and it was back to Silverband for lunch. During the morning both Steve and Ann had offered technical and compositional advice throughout with many important prompts which an amateur like me would probably have forgotten until looking at the photos later. Too late then........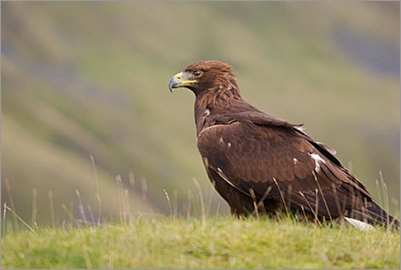 The afternoon session was held in the flying/training are at the rear of the property and included the barn owl, little owl, tawny owl, kestrel and goshawk. All behaved almost impeccably throughout and were moved often to give us different backgrounds and settings. All were delightful characters but out of them all, two stood out above the rest. The barn owl was really special. It was so beautiful to watch in in it's graceful flight that it was easy to forget the camera for a while and just marvel at the way it moved.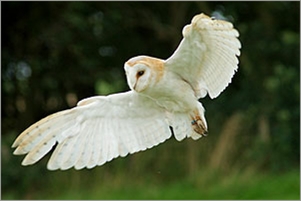 I have watched barn owls in the wild before but always at great distance but being this close enabled me to realise just how small they are and to be able to watch it's movements in detail was superb. Whether in flight, perched but ready to fly or in a 'posed for portrait' mode it's behaviour was a joy to behold. In flight, it tends to hover for a moment before resting and a few of the other photographers were given the opportunity to group and shoot from right under Richard's arm. Being a little hard of hearing and too engrossed in watching it fly I missed the moment but hopefully there will be another day to make up for that. Fingers well and truly crossed!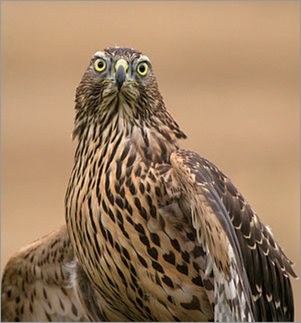 The second "character" of the afternoon was the Goshawk. Oh my, did it make it's presence known! It could shriek for England!. I'm sure it also knew, even though it's only a first year bird, just how far to safely stretch Richard's patience. The goshawk is a bird I have never knowingly seen in the wild despite lots of searches in the Forest of Dean when on holiday down there. It was bigger than I imagined and with a huge tail span that (I thought) almost matched a Red Kite. I was also surprised to see how it almost encapsulated it's captured prey.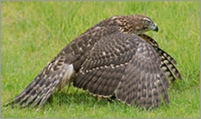 It was indeed a great day and I would highly recommend it to anyone. Full thanks must of course go to Ann and Steve Toon for arranging the day and their instructions plus advice, and to Richard and everyone at Silverband Falconry on whom the day ultimately depended.
Thanks also to my family for providing me with the opportunity for the day at all!.