For anyone with the slightest interest in wildlife,flora and fauna, especially birds, Norfolk and Suffolk are areas which should not be missed. For those with a penchant for landscape and seascape views then the same applies with the golden hours of dawn and dusk offering some fantastic opportunities for pho
tographers and artists alike. Those big sky views are stunning.
Over the years we have missed the heart and western side of Norfolk and have concentrated on the North side where it adjoins The Wash, around the point at Blakeney then east to south down the coast to Dunwich in Suffolk, which in fairness deserves a whole page to itself.
These areas have, in the main, been very kind to us over the years we have visited with good weather and a selection of holiday cottages which have all been warm and comfortable for the odd day of rain or wind.
When it is windy in Norfolk, it is WINDY. If that is forecast for your visit then I would suggest looking at the Winterton area as it has a superb beach but if the wind is making life a little hard there is an ideal sheltered valley immediately behind the sand dunes. It's usually a good overcoat warmer than the beach too.
Of course with wildlife and views like this on offer you also get people and I have to say that the locals of Norfolk are some of the friendliest and most hospitable folk you are likely to meet anywhere. All businesses catering for visitors have to offer this as part of the job but here they are just so natural with it.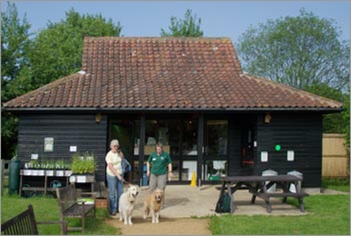 Two spots in particular deserve a mention though for the people manning them when we were there. One of my initial reasons for visiting Norfolk was to see and photograph their Swallowtail butterfly and a good place to do this was at the Hickling NWT wildlife reserve. There we met Emma, Visitor Centre Coordinator at the reserve. Although, regrettably, dogs are not allowed here even on a lead she went out of her way to make my better half and two retrievers comfortable at the tables outside the centre. The dogs loved it too as they were fussed heavily by other visitors.
This enabled me to take the photographs of the main reason for my visit, the Swallowtail butterfly. Certainly a privilege just to see this wonderful creature. To photograph it was a bonus.
Many thanks Emma!.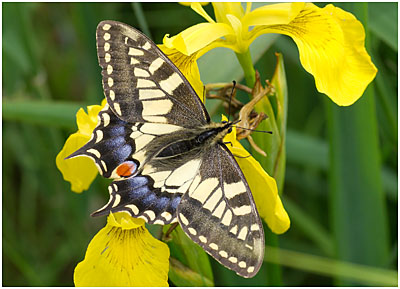 Norfolk Swallowtail (Papilio machaon britannicus)
Secondly, we have to mention the cafe which is virtually on the beach at Winterton-on-sea and, of course, it's staff (owners?) and the locals who frequent this fantastic place. They certainly know how to make folks feel really welcome, even dog owners. Thanks to all, especially the staff.

Winterton beach looking N to cafe.
So, Norfolk. Not exactly the easiest of places to get to from the north but well worth the effort in my opinion and we only managed to see a small part but enough to justify further exploration.
We stayed near the little village of Ridlington in a typical flint built cottage which was formally an old gig house. Tiny but delightful in many ways. Ideally situated for regular sightings of Roe deer, Heron, Kestrel, Sparrow hawk, Marsh Harrier, Barn Owl and many smaller birds which I didn't identify.
Thankfully there were many places easily to hand that made the stay enjoyable despite the weather. Bacton woods is just full of wildlife and great for walking with many different paths to try and many types of trees/vegetation. One section, a meadow, provided us with an outstanding sight of 3 young red deer stags in magnificent condition who insisted on watching us, watching them!. A couple of ponds not far from the car park had many newts that I haven't seen in such quantities for years.
The beaches of Bacton, Keswick and Walcott were only a few minutes walk from the cottage and were quite pleasant to walk. In the opposite direction the field walks around Ridlington were really nice with some added features of fox and brown hare and a buzzard that would come quite close. Beautiful village, Ridlington, probably even better in the sunshine!.
South of Happisburgh we tried a number of beach spots of which all seemed to have their own individual character (and sometimes characters) but the one that has to get the blackest mark goes to Sea Palling. If you want visitors and the money we bring Sea Palling, it's a good idea to unlock the car parks on a morning. At 09:45 when we visited they (it) was still chained off !! We moved on.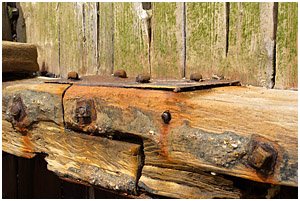 Horsey Gap, a little further down the coast is a super spot and well worth risking the last 50 yards or so to the dune car park which was flooded while we were there.
The beach is fantastic and almost deserted although we did have some seals swimming alongside us as we walked southwards on the beach then back over the dunes. It was hot and sunny while we were there and low tide so even the groynes with their gnarled timbers and rusting bolts looked the part.
Just a couple of miles up from Horsey Gap is the superbly restored Horsey Wind Pump where there is also access to other walks including Horsey Mere which is a birders spot for Cranes among others.
Moving further South on the coast (approx. 4 miles by road) will bring you to the lesser known Winterton-on-sea and its superb beach cafe which we mentioned above.
Since the above visit we have returned to Norfolk many times, adding places for the cottages we stayed in such as at Winterton, Cley on Sea and Stiffkey (superb!) and have enjoyed every single visit.