Embleton, located on the Northumbrian coastline just south of Seahouses, is one of those places some say I shouldn't mention. For those who like a quiet holiday away from the hustle and bustle, especially if you have dogs, this can be a "Died and gone to Heaven" sort of place in May and October. Take a stroll down to Dunstanburgh Castle via Dunstan steads then walk the long, sweeping Embleton Bay to Low Newton and have a coffee (or something considerably stronger!) at the Ship Inn which is nearly on the beach. Stroll the beach and through the golf links back to the village or divert through the many dune huts and visit the nature reserves double-decker hide to see what's about.

For those keen enough to get up for dawn the sunrise over Dunstanburgh Castle ruins is truly stunning and should not be missed at least once while you are there. The same applies to the vast and handsome, and better known Bamburgh Castle just up the coast.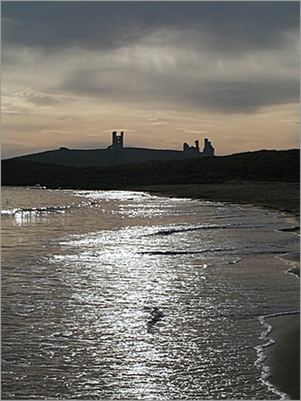 Embleton is the ideal spot for Beadnell Bay which is easily walkable from the village via Low Newton and a tiny bay by the name of Football Hole, another lovely spot and an ideal shelter for wildlife. Further to the north is Seahouses, Bamburgh and Holy Island with Craster, home of the areas smoked kippers just to the south.
Access to the Farne Islands is easy from Seahouses harbour with boat trips, 1/2 day and full day options to choose from, the longer ones landing on the islands, weather permitting, giving access to close encounters with the nesting birds. The puffins, shags etc really are within touching distance though this is forbidden of course.
Information on the are is freely available on the internet but nothing really describes the peace and tranquility this area offers quite adequately or just how friendly the locals are.
Handy for just about anywhere in Northumberland this is an area definitely worth a visit.